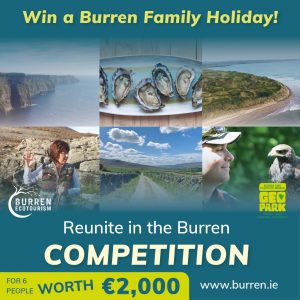 After weeks of isolation what could be more enticing than reuniting in the Burren with your extended family for a fun filled week packed with the sights, sounds, tastes and experiences of the Burren & Cliffs of Moher UNESCO Geopark. With six nights self-catering accommodation in a six bed holiday home in the vibrant beach side village of Lahinch your family will have time to enjoy the very best that we have to offer.
Share your memories of a previous Irish trip with family ideally to the Burren & Cliffs of Moher area if you have never visited before then share memories of any Irish based holiday.
Tell us what made your trip memorable, upload a photo or video (if you have one) that encapsulates the best of that time  and share it on our social media channels –  remember to use the hashtag #VisitTheBurren so we can find you
In order to complete your entry you must subscribe to our newsletter
The winners will enjoy the best that the region has to offer including:
Get Social & Share the Competition!!
This competition is now closed – watch out for the announcement of the winning entry and the date of our next contest!!!
Competition Entry Form
Win a Burren Family Holiday!
Get Social & Share the Competition!!