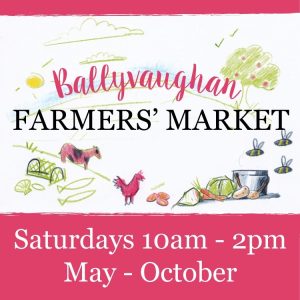 Ballyvaughan Farmers Market
Ballyvaughan Farmers Market is located at St John's Hall in Ballyvaughan, County Clare. Ballyvaughan Farmers Market takes place every Saturday from 10am-2pm during the months of May-October. This year 2016 if opens on Saturday, 30th April.
You can find a range of fresh local produce and home-made foods including meat, fish, shellfish, cheese, honey, jams, jellies, sauces, other preserves, yoghurt, fresh vegetables and herbs as well as flowers, paper craft and other gifts. With workshops and demonstrations and live music it is a great place to enjoy lunch or buy your food for a picnic or your stay.
A selection of produce from farmers, growers or producers in the local area are available for the public, giving local producers the opportunity to sell their goods directly to consumers.
www.facebook.com/ballyvaughanfarmersmarket
Enquiries: secretarybfm@hotmail.com