Burren Yoga Retreats 6 day guided outings and yoga
Eco retreat at award winning Burren Yoga Retreats is an experiential immersion in Nature in the Burren within a genuine yoga environment.
You will be looked after by
a very experienced yoga and meditation teacher
a very experienced guide to the Burren Geo Park
our famous cook Gearoid who used to work in a Hari Krishna restaurant
This 6 day retreat is suitable for complete beginners to yoga and also for regular yoga practitioners.
The complete package includes
Accommodation at the Burren Yoga and Meditation Centre
Daily yoga and meditation classes
Guided outings into Nature in the Burren hills and by the sea
Delicious vegetarian food
Some retreats we have very gentle meditative yoga, while others are more dynamic and vigorous.
The courses are suitable for all age groups from 14 to 70, both men and women and for all levels of fitness.
Most people come on their own, and we are also very happy to welcome couples, friends and also small groups.
Timetable of the Day
8:00 – 8:30 Meditation
8:30 – 10:00 Physical yoga class
10:00 Breakfast
11:15 Guided outing into The Burren or by the sea
14:00 Lunch at one of the local cafes
14:45 Further interpretive activities in Nature
17:00 – 18:30 Yoga class
19:00 Vegetarian dinner by  Gearoid the chef
20:00 Walk by the sea or up the hills next to the centre
21:00 – 21:30 Meditation
22:30 + Bed time
On our guided outings and outdoor activities
Dave who founded the yoga centre will personally take you to some of the many beautiful places in the Burren where you will see wild flowers, spectacular landscape and also see many places which the casual visitor will be unaware they even existed.
An overview of some of the activities that we do, and some of the places we visit and things you can expect to see on our guided outings are on Burren Yoga website
These activities include
Hill walking
Walks by the sea
Surfing
Sailing
Kayaking
Swimming
During the guided outings, you will see the spectacular shaped Burren hills which plunge into the Atlantic and you will hear how the Burren rock was formed, see and hear about the wild flowers, get to visit ancient sites such as Poulnabrone Dolmen and visit the Burren National Park and many more special places which you may not otherwise discover.
We also visit local attractions such as the Aillwee Cave & Birds of Prey Centre, the Cliffs of Moher and each day we visit another of the café's and tea rooms in the local area for lunch.  All of these locations and places to eat are hand picked by Dave, and you can be assured of seeing very special places, eating amazing local food, and being looked after in this fun and enjoyable atmosphere..
One of the success factors of the Burren Yoga Retreats is that we don't try to provide many different types of courses.   Instead we focus only on Yoga and Meditation and time spent within Nature in The Burren, and have been continually improving these eco retreats over the years.
These "Nature and Yoga Eco retreats" have been running for over 16 years with over 40 very successful retreats each year.
Dave has hand picked the yoga and meditation teachers himself and facilitates each course himself which ensures high standards are maintained and that every guest receives a genuine yoga experience and that you are looked after warmly and to help you have the best possible stay.
This Eco experience has been designed using the ethos of the Burren Yoga retreats to protect the environment throughout the complete life cycle of the business from the design and build of the yoga centre, the very nature of this no-impact low numbers retreat and we will also help you to find out how you can become involved in helping protect this magical area of The Burren if you are so inclined.
Yoga begins by learning techniques and practices for your own mind, body and soul, but ultimately is about getting in touch with the light and love that is within every moment, helping others, looking after the environment and ensuring our children have healthy and positive lives and a sustainable natural environment for the future.
Tripadvisor award of Excellence 6 years in a row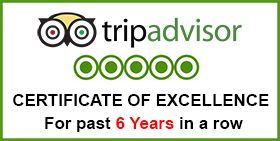 Duration: 6 days.
Dates:  Every week from start of June to mid September, Christmas, New Year and Easter
Numbers: 15 Maximum.
Cost: Individual €730 to include accommodation, meals, yoga & meditation tuition and guided time in Nature.
Special Requirements: Rain gear, walking boots and change of clothes.  A big smile and an open heart 😉