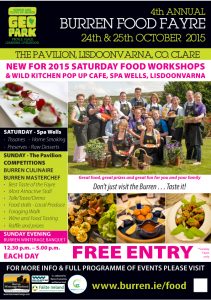 The Burren Food Fayre is held on October bank holiday weekend and has a range of local Artisan Food Producers, cookery demonstrations, talks and tastings.
The Burren MASTERCHEF competition is one highlight with categories for Secondary Schools and Adults, all are invited to participate – fabulous prizes to be won!
In the morning you can take part in Cattle Droving from Fanore to the Winterage above on the Burren and then head for Lisdoonvarna for your lunch and some fun at the Burren Food Fayre starting at 12.30.
Venue: The Pavilion (Town Hall) Lisdoonvarna
Free to enter
NEW THIS YEAR!
TALK / TASTE / DEMO FOOD WORKSHOPS on SATURDAY 24th OCTOBER
at the SPA WELLS HALL, Lisdoonvarna

1pm. LISA GUINAN – HERBALIST
Healthy Vinegars
1pm. BIRGITTA CURTIN – BURREN SMOKEHOUSE
Smoking Fish at Home
1pm. JANS SCHUURMANS – THE BOGHILL CENTRE
Raw Desserts
2.15pm. SINEAD GARVEY
Paneer Cheese from start to finish
2.15pm. DEBORAH EVERS – CLAREVILLE HOUSE KITCHEN GARDEN
Preserving Food – 5 Practical Methods
2.15pm. NEIL HAWES CRAFT MEATS
Making the best of your Burren Beef and Lamb
3.30pm. VAL O'CONNOR
Sauerkraut
3.30pm. EVA HEGARTY – BURREN FREE RANGE PORK
Using Pork in Desserts
3.30pm. CEARBHUIL NI FHIONGHUSA
Tisanes from herbs and flowers
WORKSHOPS COST €10 with a reduction for two or more.
Contact Oonagh for further details +353 87 6877890
Wild Kitchen Pop up Café till 5pm
FAYRE PROGRAMME SUNDAY 25TH OCTOBER
11.30 a.m. FORAGING WALK WITH OONAGH O'DWYER OF WILD KITCHEN
Register at the information desk in the foyer. (Limited Spaces). Sponsored by the Lisdoonvarna Community Council.
12.30 p.m. DOORS OPEN FOR THE FOOD FAYRE, FREE ADMISSION AND PARKING.
Food Stalls of Local Produce and Tastings.
12.45 p.m. OFFICIAL OPENING OF THE BURREN FOOD FAYRE
by Jim McNamara, Education Director (retired), An t-Ionad Glas, The Organic College, Limerick.
1p.m. COOKERY DEMONSTRATION BY CHEF PETER JACKSON OF THE ARMADA HOTEL.
Seasonal dishes using wild local foods.
1.15 p.m – 2.15 p.m. BURREN MASTERCHEF COMPETITION FOR 'HOME COOKS'
Submit your precooked, plated, vegetarian dish for display and judging. Using local ingredients. Contact Eva on +353 868815974 for entry details.
2.00 p.m. Cookery Demonstration by FIRST FINALIST OF BURREN CULINAIRE*
3.00 p.m. Cookery Demonstration by SECOND FINALIST OF BURREN CULINAIRE*
4.00 p.m. Cookery Demonstration by THIRD FINALIST OF BURREN CULINAIRE*
*A competition for Professional Trainee Chefs.
4.45 p.m. Announcement of RAFFLE WINNERS and BURREN MASTERCHEF 2015
5.00 p.m. Announcement of Winners of THE MOST ATTRACTIVE STALL AWARD, The BEST TASTE OF THE FAYRE AWARD and THE BEST 'BURREN BEILINI' produced by a Geopark member.
5.15 p.m. Announcement and presentation to the WINNER OF BURREN CULINAIRE
Judging panel led by Chef Peter Jackson of Armada Hotel.
Finish off the weekend with a SUNDAY NIGHT BANQUET at the BURREN STOREHOUSE, Lisdoonvarna
6.30 – 8.30pm.  3 course menu €25 hosted by Kieran's Kitchen. Tel: +353 85 2704686 to book
This event is organised by the Burren Ecotourism Network and Burren Food Trail in conjunction with Burren Beo Winterage Festival.