Join us this spring for the first Doolin Surfest, a three day festival that's run by people who love the sea, for p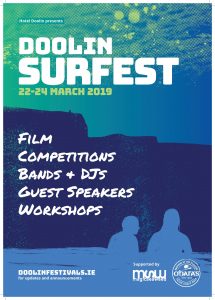 eople who love the sea.
Surfers of all crafts, film-makers, artists, writers, musicians— for those of us the ocean inspires, heals, humbles and exhilarates, this is a gathering that gives us a chance to celebrate and give thanks for being lucky enough to live and work and play in this extraordinary environment.
We'll host film screenings, guest speakers, art exhibitions, workshops, competitions, bands and DJs and the best of sustainable local food and hospitality.