Experience a slice of Irish country life in a modern and luxuriously comfortable holiday home in County Clare. Casa Ceoil, which accommodates up to 6 people, is set in a family friendly farm-like setting and gives the opportunity to experience a relaxed break at an easy distance from town and attractions of County Clare.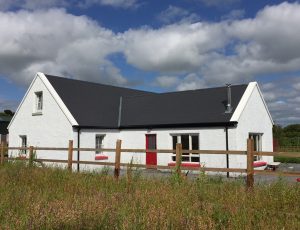 Idyllically nestled at the entrance to the Burren and close to the Wild Atlantic way, it is a gateway to the best West Clare has to offer. Within ten minutes of the bustling town of Ennis in County Clare, Ireland, Casa Ceoil is a quaint, semi-detached property.
Casa Ceol is a two-story property with three bedrooms and will comfortably sleep six. Newly decorated, its airy, open plan design and brightly furnished rooms are the perfect complement to its tranquil setting. Make the most of creature comforts like a reading nook, a private outdoor terrace, underfloor heating and two bathrooms – one with a shower, the second with a bath.
Casa Ceoil's farm-like setting means guests can enjoy on-site and family friendly activities such as feeding friendly animals, learning about plants in the garden and polytunnel. A free tour is included in your stay, but we are also happy to arrange for regular inclusion of children or adults wishing to learn more about country and farm life. Music buffs will appreciate the owner's traditional Irish music background and are welcomed to a chat about the best places in Clare to find a good session.
Guests will receive linen and towels as standard as well as a complimentary basket of firewood/turf to burn in the solid wood stove. Free Wifi is also available in the property.
Let us know about your interests and we will give you tips on attractions and events in the county, all to make your stay as pleasant as possible.