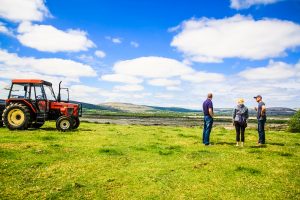 Burren Farm Experience
Book your tour on the Burren Farm Experience here! We will bring you for a ride on our tractor trailer with comfy straw bales for seating through our almost 500 acre farm of mixed species-rich grassland. Passing livestock and many interesting historical remains. We will then take a hike 5km/8km through the National Park to majestic Lough Bunny Lake which is of global importance and the centre of a unique karstic wetland system.
You are joining a dynamic duo with husband and wife, Cathal is a 5th Generation farmer he has studied farming acquiring a Green Certificate in Agriculture and has been working on the land for over thirty years since he was a young child being taught his trade by his late father John. I'm Bronagh aka "the wife" recently completed a tour guiding course we are very passionate about this unique area of conservation. Together with our three daughters we are custodians of the land and en-devour to farm with conservation in mind. Farming is integral to the character and composition of the Burren. The ancient transhumance practice of winter grazing on the rough limestone grasslands has been proven to be critical to the health and diversity of the habitats and species therein.
Contact us
Burren Farm Experience
Boston, Tubber, Co.Clare, Ireland
mobile: (00353) 086 399 04 40