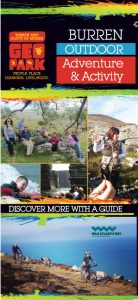 Welcome to a compelling selection of up to 20 different activities and adventure pursuits to be enjoyed outdoors in Ireland's most distinctive of landscapes. Whether you seek a rush of adrenalin or a restful escape, come join us in this natural wonderland.
In the stunning surrounds of the UNESCO-recognised Burren and Cliffs of Moher Geopark you will find the longest cave system in Ireland, the largest stalactite in Europe, the Burren National Park, the Carron Nature Reserve, and a host of wild flora and fauna waiting to be discovered either on foot, from a kayak, in the saddle, behind an easel or even from a ridge.
The best way to discover the Burren is in the company of a knowledgeable and professional guide, who will delight in sharing the secrets, mysteries, scents and silences of this beautiful and dramatic landscape with you. The vast range of outdoor activities on offer means that there is something suitable for all interests and all levels of fitness.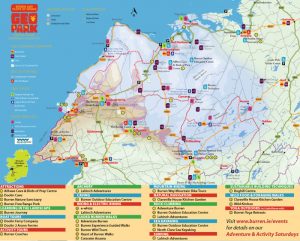 Burren Outdoor Activity & Adventure is a joint initiative of the Burren & Cliffs of Moher Geopark and the Burren Ecotourism Network. Both organizations are committed to the promotion of responsible tourism that conserves the environment and improves the well being of local people, and are working together to promote 'The Burren & Cliffs of Moher Geopark' as a leading sustainable visitor destination, celebrated for high standards in visitor experience, conservation and learning.
We are located at the perfect mid-way point on Ireland's Wild Atlantic Way, the longest coastal touring route in the world. So whether you're travelling northwards or southwards along the west coast of Ireland, the Burren & Cliffs of Moher Geopark is the ideal place to stop and linger. Let us take you on your own journey of discovery to experience the Burren, fondly known as 'The Fertile Rock'. Starting from any of the Wild Atlantic Way Discovery Points along our coastline, we can offer you a chance to get to know award-winning food producers and chefs, and to select from the best of accommodation choices, along with spectacular cycling and walking routes as well as adventure activities in the sea, on the sea and on land. Our celebrated geological heritage includes many natural wonders, most famously the dramatic Cliffs of Moher and the awe-inspiring limestone landscape of the Burren uplands. We are proud to welcome you to a truly special place. Welcome to the Fertile Rock!